Porphyry stairs
We provide our customers with customized elements to create porphyry stairs of different types and sizes, for both exterior and interior. A porphyry staircase excellently resists over time without wearing out and, if done in a workmanlike manner, can become a valuable decorative element.
We offer the customer numerous processes to ensure an exclusive final realization, as well as personalized support from our Sales Department.
External porphyry stairs: aesthetics, resistance and anti-slip effect
Each natural stone staircase is unique, in fact it can be made with different processes depending on the structural and aesthetic needs. This is why we offer our customers:
surfaces with natural, flamed, brushed top
special processing of the sides, such as sawn, flamed or split
different sizes of the various elements, to run, single pieces, goose or massive
different colors of the material thanks to our extraction fields
The result will be a unique and personal realization.
Precisely because of the uniqueness of each creation, we recommend that you contact our Technical Department directly for all the information and advice relating to the staircase to be built.
Furthermore, one of the main characteristics of Trentino porphyry, if kept natural, is the rough surface. The anti-slip effect makes this material ideal for the construction of steeply sloping roads, even subject to frosts. This also happens for the external porphyry stairs: the rough steps reduce the risk of falls in case of rain, but also of ice or snow.
Find out now the prices of the stairs with porphyry steps!
1. Flamed upper floor steps
Bottom top and sawn sides - One long side split or flamed. Running length - constant thickness
| Width | Thickness |
| --- | --- |
| from 10 to 50 cm | 3/4 cm |
Available colors: albian gray, green gray, speckled gray, red and purple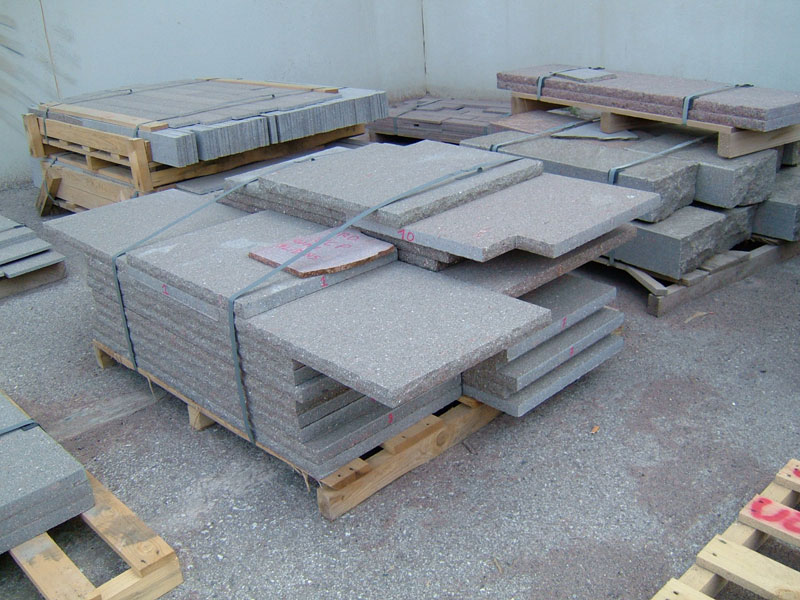 scalini-in-porfido-fiammato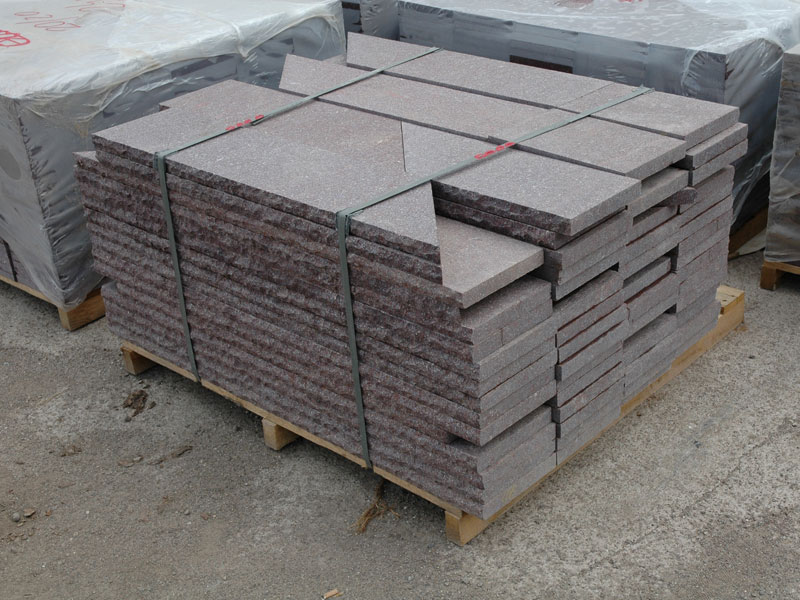 pallet-gradini-fiammati-porfido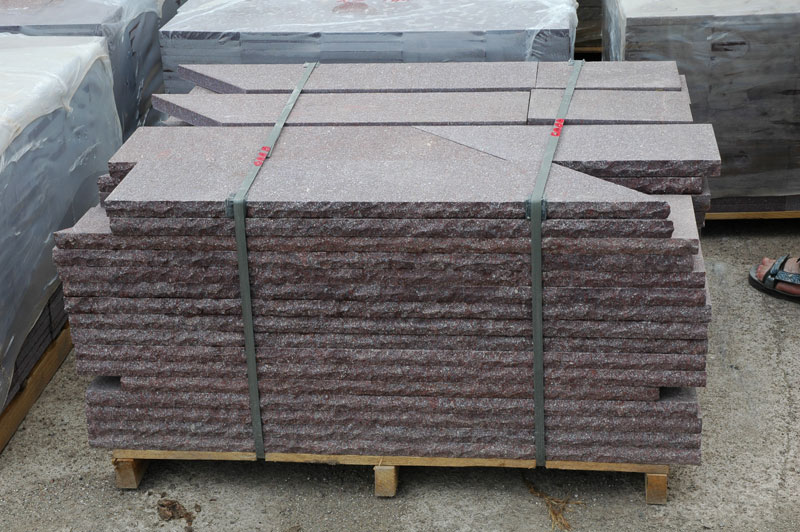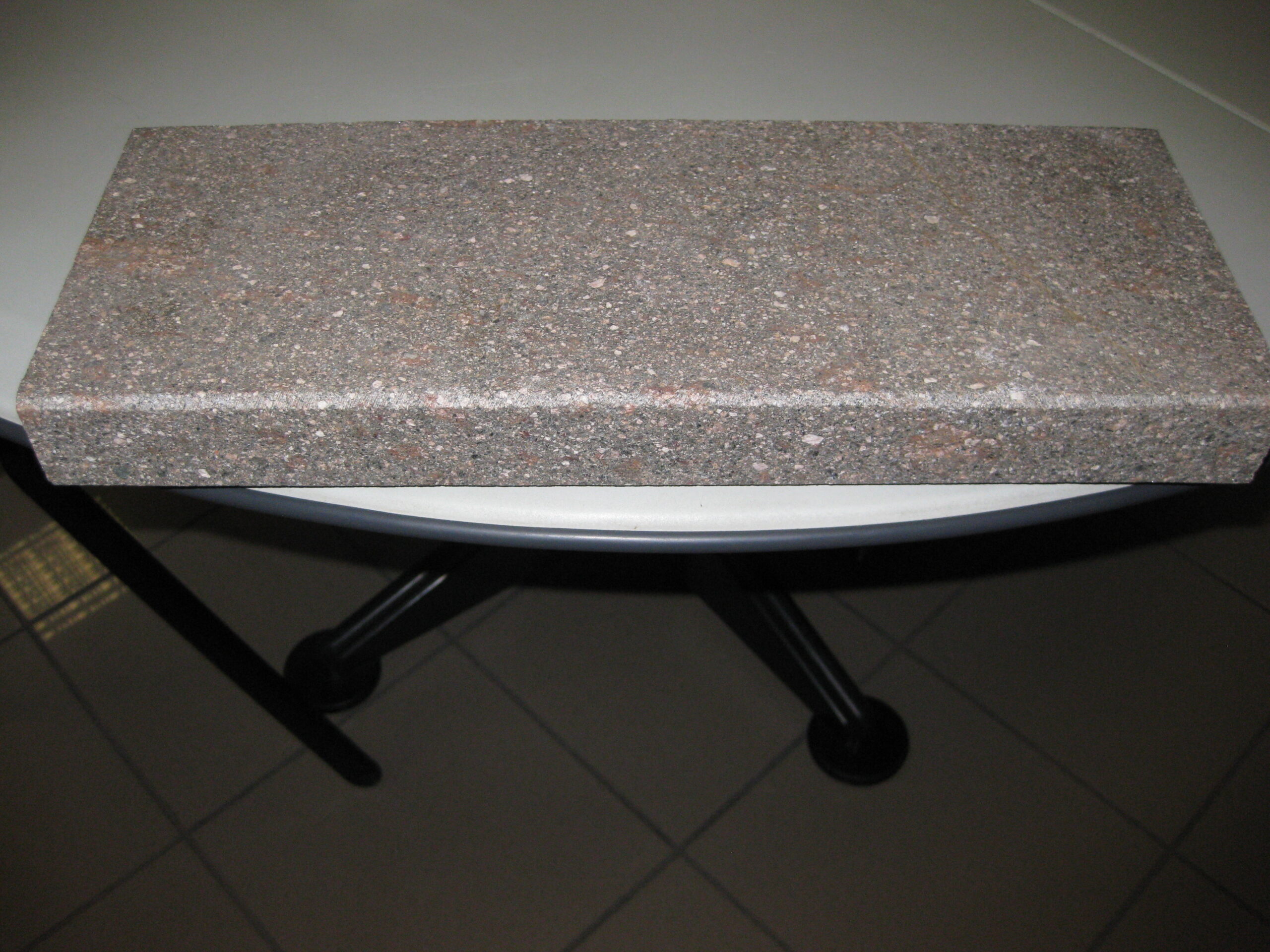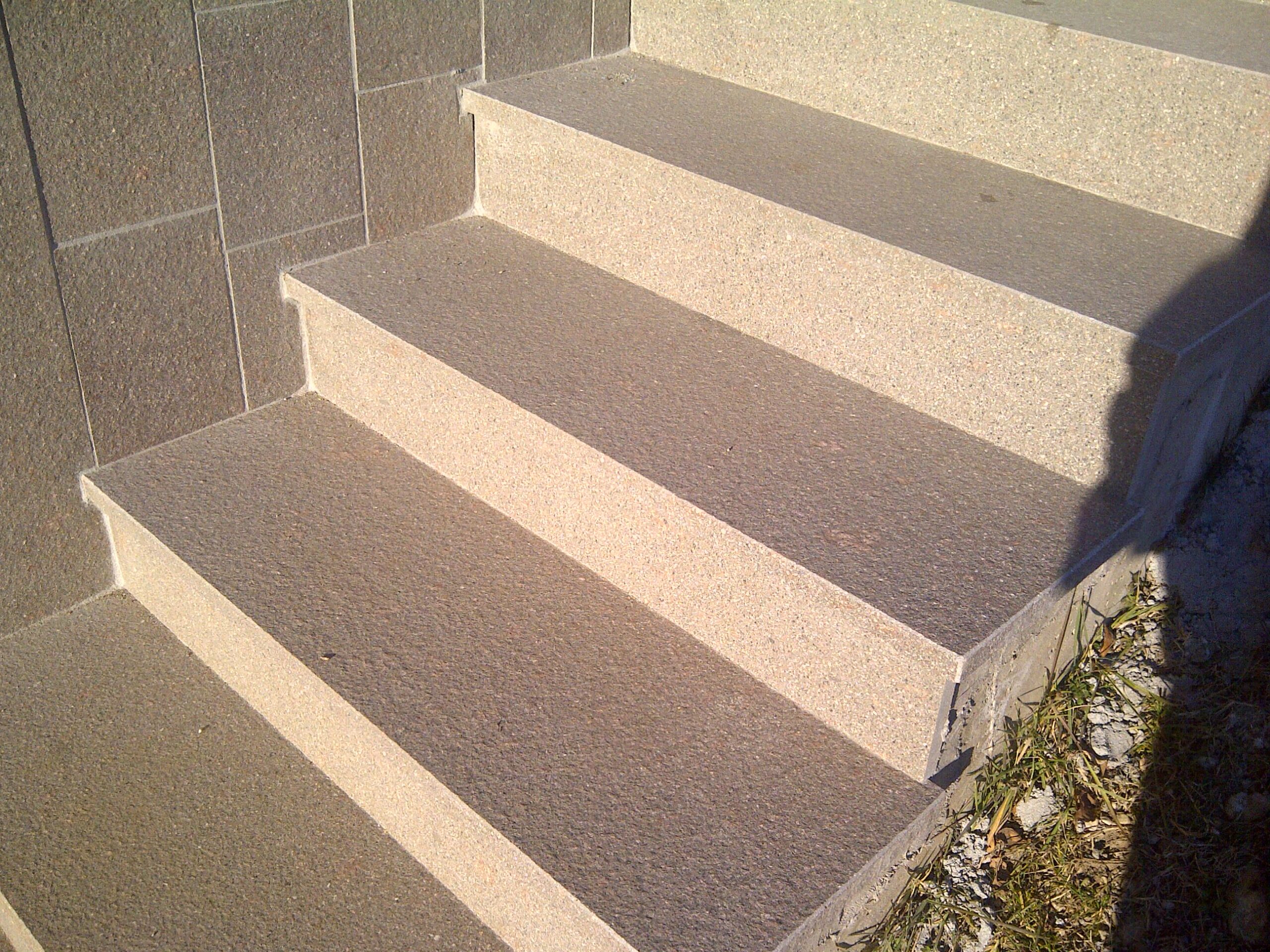 2. Natural top steps with split sides
Thickness 3/4 - 4/8 - 5/6 cm - Length to run - Red color
See also the Slabs – Mosaic page.
| Width | Thickness |
| --- | --- |
| from 10 to 50 cm | 3/4/5/6 cm |
We supply unique bespoke pieces.
scala-porfido-gradini-spacco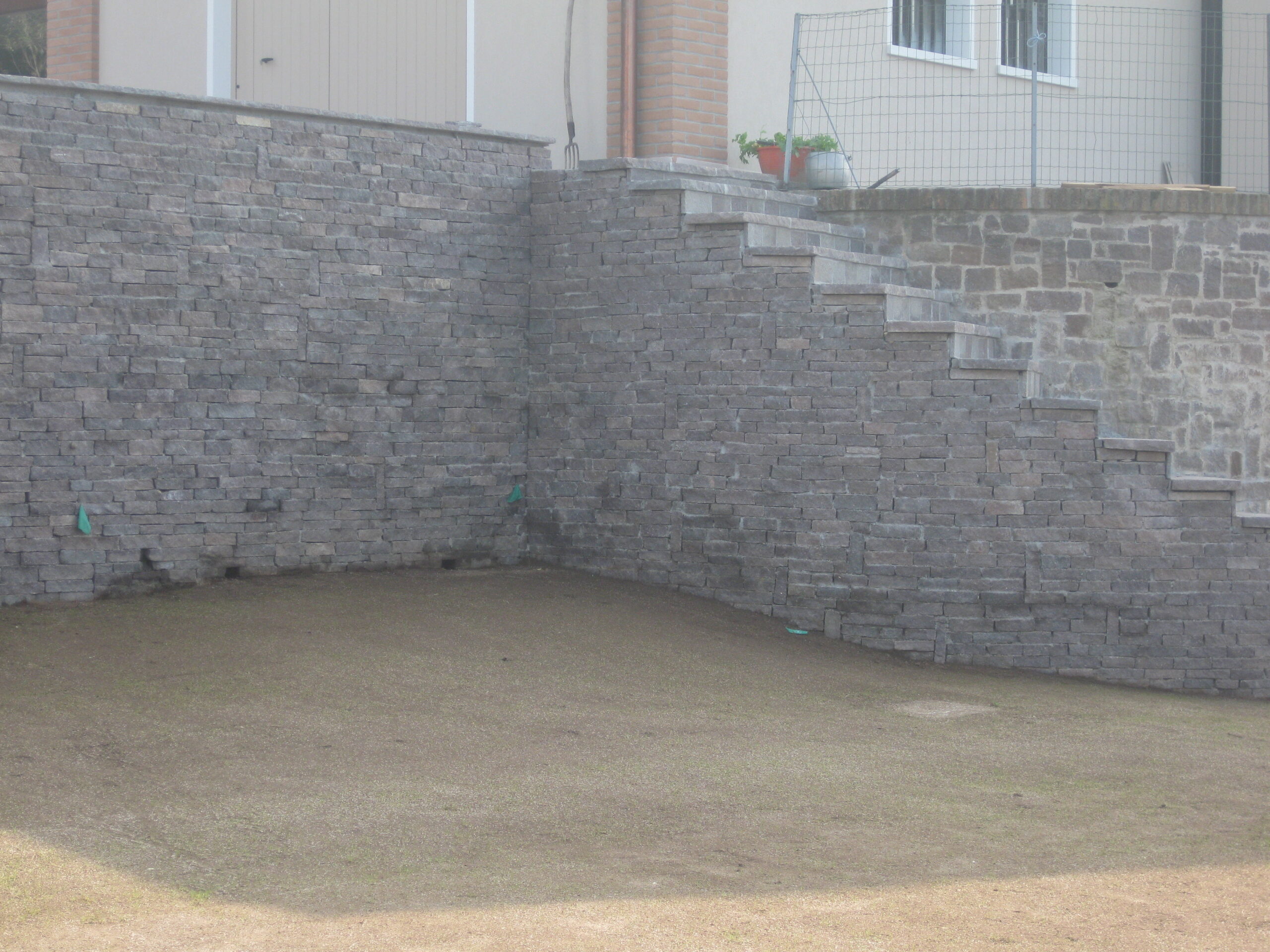 gradini-spacco-scala-porfido
3. Natural floor steps and sills with sawn sides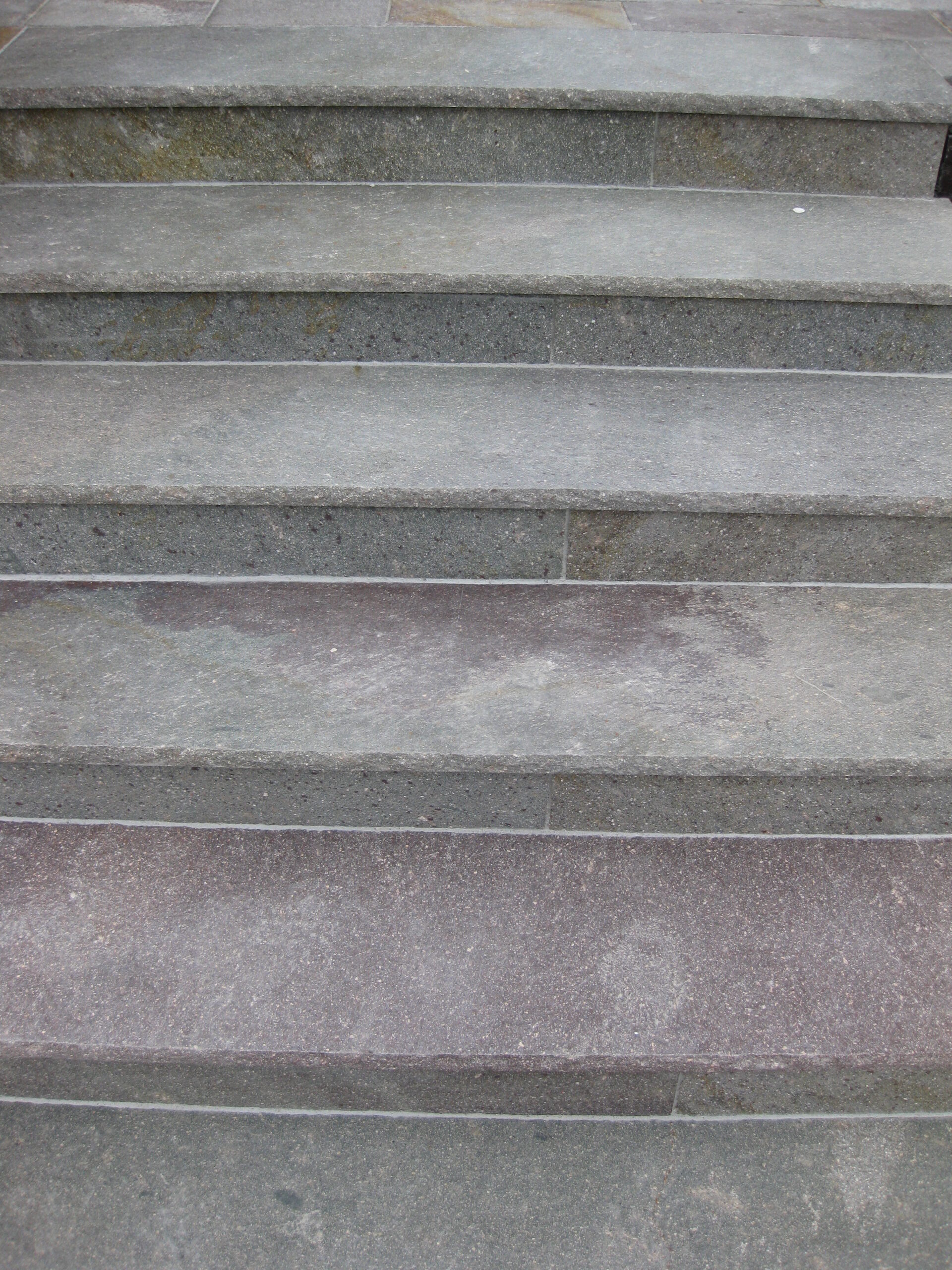 scala-porfido-piano-naturale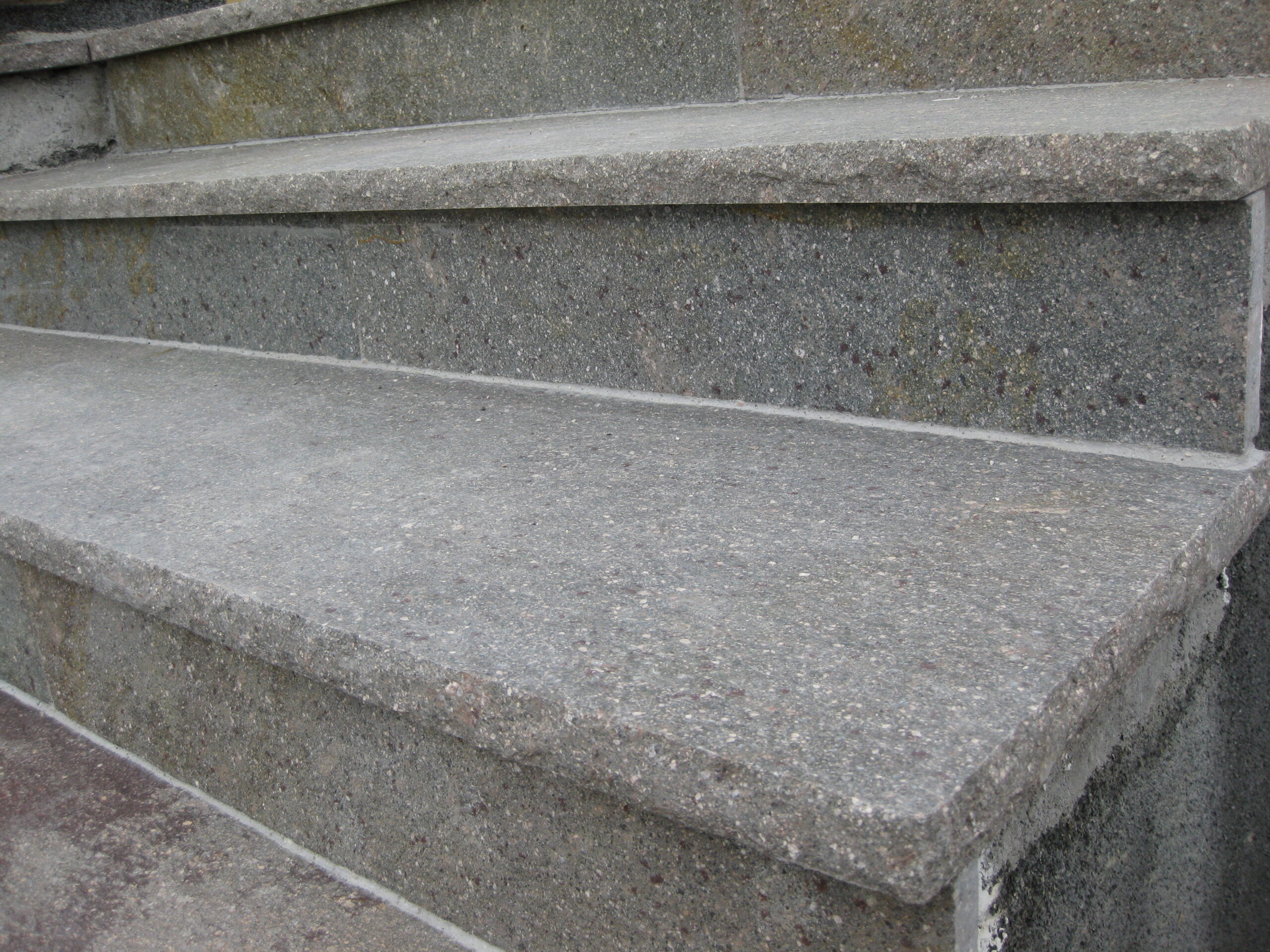 Ribs sawn and calibrated on the long side and a short one for 6cm. Length up to 119cm - Mixed gray / purple color.
| Width | Thickness |
| --- | --- |
| from 8 to 50 cm | 3/4/5/6/7 cm |
Colors available: purple red.
The thickness in the coasts not seen can vary by more or less 2 cm.
It is possible to request the following processes:
splitting of the ribs
chiselling or bush hammering of edges
drip tray (passing, non-passing and cornering)
joints
oversize cuts
fixed measures
trapezoidal and fan-shaped treads
1×1 cm bevel only sawn
all flat calibration
4. Natural top steps with sawn sides
One long calibrated and split side - Running length
See also the Binderi page.
| Width | Thickness |
| --- | --- |
| from 8 to 50 cm | 3/4/5/6/7 cm |
Pieces with longer lengths are supplied.
On request, further calibrated and split exposed ribs.
Colors available: mixed, purple.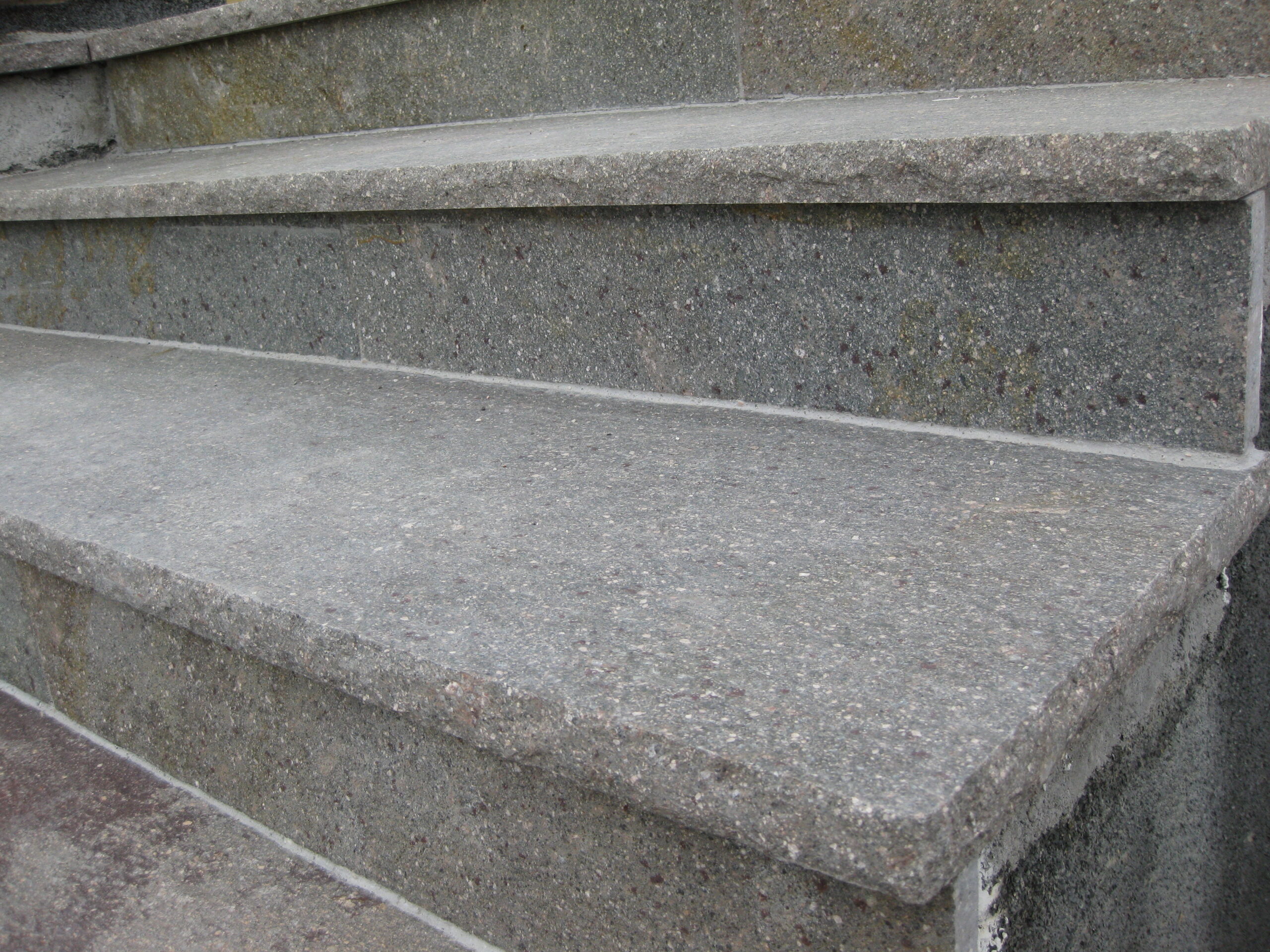 5. Flamed steps and sills
Upper flamed surface - Lower sawn surface - Sawn sides - Constant thickness
See also the Creases page.
Whole pieces
Thickness
Width

up to 130 cm

from 131 cm to 200 cm

from 251 cm to 300 cm

3/4 cm

up to 55 cm

or

up to 60cm
Available colors: albiano gray (width up to 55 cm), green gray, speckled gray, red and purple (width up to 60 m).
possible processes:
piano patination
heads out of square
rib processing (split, half flamed bull 'beak owl', flamed bull)
fan-shaped elements
Special works and polished tops are made to order.
6. Massive steps with upper deck, front edge and two flamed heads
Unique pieces - Constant thickness
See also the Pebbles page.
| Lenght | Width | Thickness |
| --- | --- | --- |
| from 75 to 200 cm | 35 cm | 15 cm |
Colors available: red and purple
blocchi-porfido-gradini-cina
7. Massive steps on natural floor
Fixed length up to 99 cm. A long split or flamed rib and calibrated for 5/6 cm - Other sides sawn
See also the Smolleri page.
| Width | Thickness |
| --- | --- |
| from 20 to 40 cm | from 10 to 20 cm |
Particular colors: reddish.
The thickness refers to the coasts seen, in the remaining surface it can vary more or less 3 cm.
Installation and construction of the external porphyry stairs
The installation of external stairs with porphyry steps depends mainly on the type chosen and the correct construction of the rough concrete staircase. It is of fundamental importance the correct measurement of the steps and any shapes, recommended in particular for out-of-square or gooseneck steps.
The installation generally takes place with cement mortar, "dirtying" the lower part of the steps with cement grout which acts as an adhesion between the step and the mortar. Then we move on to grouting with professional grout or putty.
Maintenance and cleaning
Cleaning the porphyry stairs is simple, in fact only water or the use of a pressure washer is required to clean the stone. Instead, we do not recommend the use of detergents or acids.
C.A.P.A. Porfido is at your disposal
For any need, information or quote please do not hesitate to contact us.
Mob. +39 331 1915956 // +39 339 8648344